Galecopperbrug Utrecht (A12)
Rijkswaterstaat will renovate the Galecopper bridge, part of the A12 motorway near Utrecht, between 2013 and 2015. The Galecopper bridge is one of the 14 bridges within the project "Renovation Bridges". Like many other steel bridges from the 70s, the Galecopper bridge shows signs of fatigue.
Moreover, there is more traffic now than anticipated during the development and also the freight traffic has become heavier. With the renovation of the Galecopperbridge the vertical clearance for shipping at the Amsterdam-Rhine Canal also increases. Ships are getting bigger and carry more containers. In time, the entire route between the Rhine and Amsterdam must be made suitable for vessels with a maximum height of 9.10 meter, which allows four layers of containers to be transported. For this reason the Galecopperbridge is raised a few dozen centimeters.

Rijkswaterstaat commisioned contractor KWS Infra, part of Volker Wessels, to renovate the Galecopperbridge (A12). The renovation extends the lifespan of the bridge over the Amsterdam Rhine Canal with thirty years. The contract was awarded for an amount of approximately 80 million. The work is carried out under the name of "combinatie Galecom". KWS Infra cooperates with Mercon, Hollandia and CT-de Boer.

In order to confirm that the geotechnical load-bearing capacity of the foundation piles, and that the design meets the pile head subsidence after the provision of the piles is not greater than allowed, a pair of test loads is executed in order to verify the load-bearing capacity and the expected pile head subsidence.

APTS and GSNED/BMNED
These test loads are carried out by APTS, the alliance between Acécon Consultancy for foundation techniques bv, IFCO Foundation expertise bv and GSNED / BMNED. Two static pile tests are performed, ranging from 660 tons to 750 tons. Both pile tests are fully instrumented (Class A - strength and deformation controlled), whereby the load-subsidence behavior, including the distribution of shaft friction and the force applied on the pile tip can be determined at at all stages of the test.

GSNED ensures the full implementation before, during and after the test. This involves installing the measuring instruments on the pile, performing control CPT's, supplying and removal of 800 tons of ballast by vessel, supplying and discharging of 4 cargo's of crane mats for being able to build up the test rig in a stable manner and building up the test rig itself. In relation to the poor carrying capacity of the topsoil both test set-ups have been built up during the day, and the test itself was subsequently carried out throughout the night. After successfully performing both tests GSNED has disposed all materials and yielded the terrain neatly back to its original state.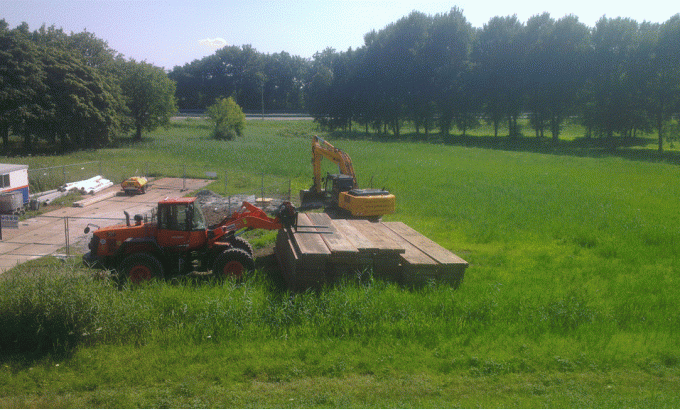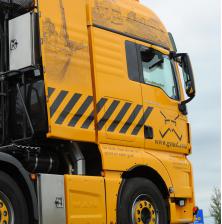 Knowing more?
Mr. M. (Michael) de Nijs