DC Defensiedok Nieuwegein
Business park "Het Klooster" in Nieuwegein is, with its central location in the Netherlands and the good road network around it, the ideal location for carrying out centralized logistics activities. The business park is located directly on the A27 highway with its own entrance and exit (28) directly to the site. The motorway connection to the A12 towards The Hague and Arnhem and the A2 towards Amsterdam and Eindhoven is at a very short distance. Heembouw is building a large-scale and sustainable 28,000 m² distribution center at the Klooster in Nieuwegein business park.
GSNED / BMNED
GSNED has performed 148 tests with measurement of cone resistance and local adhesion. In addition, 8 more probes with additional measurements of water pressure. All these soundings have been continued to an average of almost 25 meters minus ground level.
BMNED has drawn up a foundation recommendation based on these tests.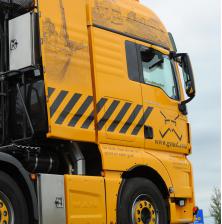 Knowing more?
Mr. M. (Michael) de Nijs